On February 10, 2018 (my mother's birthday), I married my best friend (David G. Kuhns) in the Nashville Temple of The Church of Jesus Christ of Latter-day Saints. It's been one crazy road since God first showed me that this man would enter my life. It's been worth every challenge I've faced getting here.
Dave's family and best friend from high school with his wife flew in for the wedding. My father and Dave's father were witnesses to the ceremony. But none of my other family members were there.
Normally, when a bride comes to the temple to be married, she goes into the bride's room. This is a fairly large room with lots of chairs along the wall for people to join her. The typical bride will have her mother, sisters, grandmothers, and friends accompany her. In this beautiful room, the bride is doted on and dressed by those who love her and are excited to watch her marry the man who will be her eternal companion. It's a joyous time of anticipation and preparation.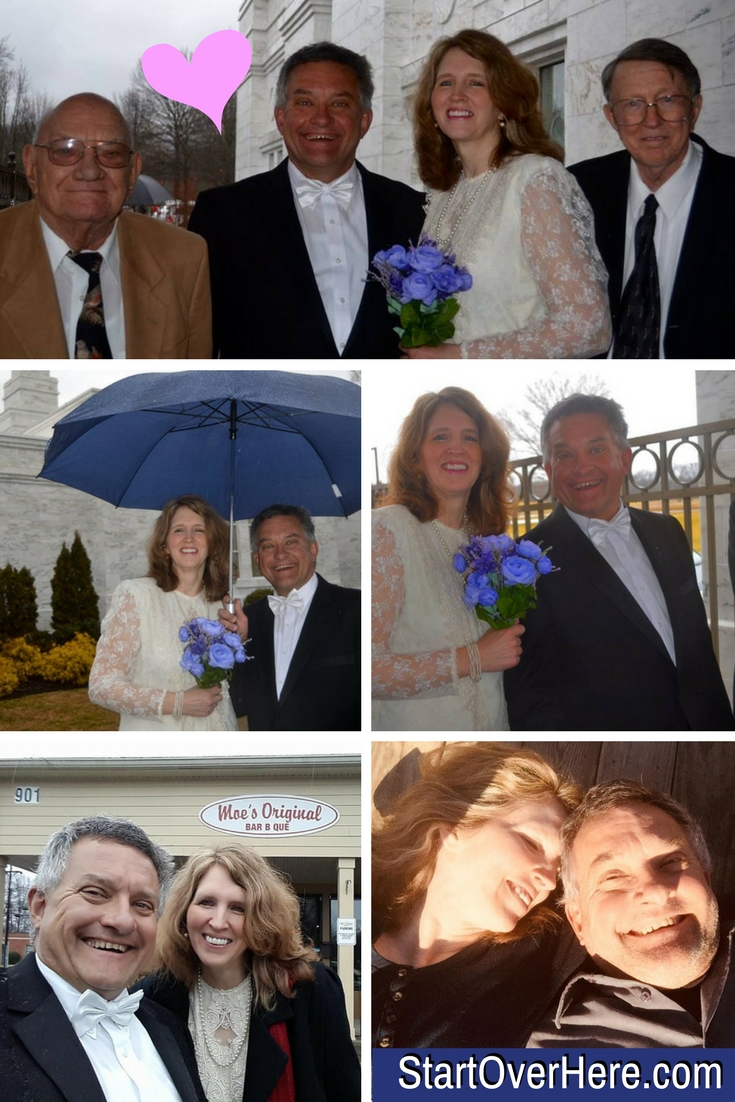 I had asked one of my best friends to come with me and be what we call an "escort" in a temple marriage… basically the equivalent of a maid of honor. She ended up being really sick and couldn't come. Another close friend who planned to attend came down with the flu and also couldn't be there.
As I walked toward the doorway of the beautiful bride's room in the temple, I was acutely aware that I was alone on this very important day. I wondered how many brides are alone in this room on their wedding days. Not many, would be my guess. For a flicker of a second, I felt a little self-pity.
The instant I stepped into that supposedly empty bride's room, I could tell that it was filled with departed loved ones. I knew my mother, who passed away last March, was there. My grandmothers, great aunts and other ancestors filled the room. I had a strong feeling that I was not alone but attended by a crowd of women who loved me.
I also had the feeling there were people there I didn't even know. Later, when I shared the experience with Dave, he paused, got misty eyed and commented, "My grandmothers were with you." And I'm sure they were.
I realize that, had there been another living person with me in the room, I probably would not have noticed that my mother and grandmothers and others were with me. Being by myself in the room left me no one else to talk to, so instead I talked to my mom and grandmothers. I could hear my mother in my mind, reminding me to do this or that as I dressed.
I felt their love for me, their excitement, their joy.
My mother's presence was so near, I chatted with her as I dressed. It was a wonderful, sweet experience. I frequently read Facebook posts where people share how they miss departed loved ones on their birthdays. I spent my mother's birthday (my wedding day) with my mother in the temple. She was there, as surely as if she had been there in physical form. Her presence was so tangible to me, I didn't miss her at all.
What a blessing! How many times in our lives do we think we are alone, when in reality concourses of angels surround us, ready to support us and encourage us? It's so easy to be distracted by what's going on in this mortal world that we cannot feel their presence. While I'm not grateful that my friends were sick and could not be with me, I am grateful to have had this precious experience with others who love me just as much. It is a sacred experience I will remember forever.