"Don't be afraid of the space between your dreams and reality. If you can dream it, you can make it so." – Belva Davis
In August of 2011, I caught the vision of the type of marital relationship I wanted to have. At the time, I didn't know if the marriage I was in would morph into that relationship, but I was willing to give it a try. In time, it became obvious that it was no longer in my highest good to remain in that marriage.
In August 2013, my marriage of 28 years ended. I set on a proactive path of searching for the spouse who I had seen in vision. The biggest heartaches I faced along the way were because I was afraid of the space between my dreams and reality. I wanted my dream and I wanted it quickly. Because of my over-zealousness to receive what I felt God had promised me, I acted in ways that were not incredibly productive.
I could call those non-productive actions mistakes, but how can I call anything a mistake that led me to the fruition of my dream? Today, I am married to the man God showed me in vision more than seven years ago. Nothing I did messed up God's plan for me. How many of my choices were necessary for me to grow into the person I needed to be? I may never know.
"Wisdom is looking back at your life and realizing that every single event, person, place, and idea was part of the perfected experience you needed to build your dream. Not one was a mistake…

Everything serves, and the bigger the crisis, the larger the blessing." Dr John Demartini "The Breakthrough Experience."
Yet, along the way, here are some things I did that caused me frustration and pain. Maybe you can keep them in mind if you're living in the space between your dream and reality.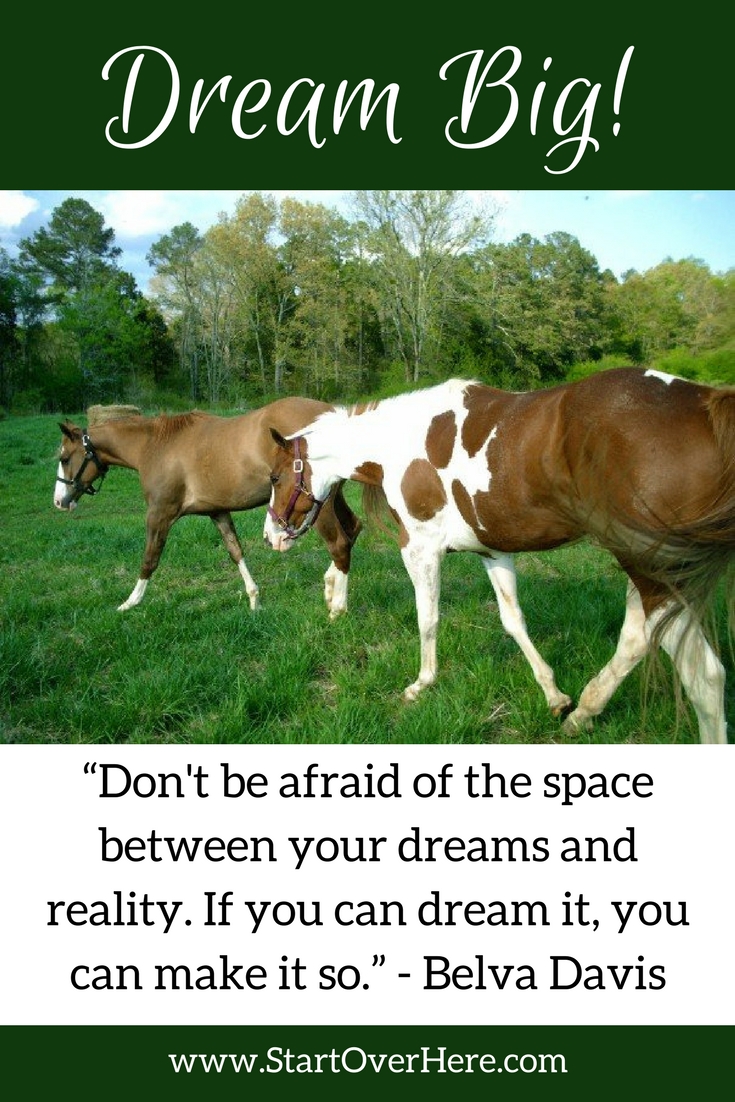 First, I constantly tried to cram square pegs into star-shaped holes. In vision, God showed me that I would be with a passionate, lively, happy man. I entered at least two serious relationships with men who could play a good Eeyore or "The Born Loser." Not happy, lively, or passionate!
I was shown a man who could share a stage with me and teach alongside me. While some of the men I dated might have been able to do that, they were not interested in doing so.
There were many more "square peg, star-shaped hole" examples. What did I learn from those relationships? Never, ever marry on possibility. Marry on reality.
Second, I settled for less than my dream. In my second marriage, I completely abandoned my dream. After we were married, my second husband asked me to walk away from my dream, and I did. It was heart-wrenching and literally impacted my body in a negative way. What's more, I could no longer see my way ahead. The future looked dim when it had looked so bright and promising before.
Why would I give up my dream? I loved him and I wanted to prove to him that I loved him more than my dream. Ironically, in the end, walking away from the dream — which ultimately resulted in that relationship ending — actually enabled my current husband to come in and make it all come true.
Third, I over-invested in men who were not invested in me. I compromised and gave way too much of myself to men who were not making an equal investment in me. When the right man came along, I felt the complete opposite. Since I've known him, he constantly invests in me and in our relationship. In fact, I feel like I can't possibly keep up, he's so wonderfully generous and kind.
Fourth, I let the relationships, not the vision, guide me. Each time I entered into a relationship, I let the man dictate what I was going to do, how I was going to be, how we were going to be, how my life was going to play out. I somehow thought that maybe if I got into the relationship, then the man I was with would eventually come around to my vision.
That does not happen.
When I finally let go and let God, then the man came along who lived his life in lock-step with my vision. In fact, several times he has told me things that match up perfectly with my vision … before I told him about the vision. Each time that happened, through misty eyes I would tell him "Yes, my vision is exactly what you just described." Then I would tell him more detail, and he would respond with enthusiasm and joy. We call those our "Yes, and … !" moments, where the visions we both see and develop become much greater than the sum of our individual dreams and desires.
Summary
If you don't have a divinely directed vision, get one. If you have a vision, don't give it up. Don't settle. Don't try to cram square pegs in star-shaped holes. Don't over-invest in relationships that aren't investing back in you. Let your vision guide you forward. Measure everything against God's vision for you. When it's right, it flows because God is directing it. That doesn't mean you won't face opposition or have to work at it, but when it's right, things eventually line up.